So as you seen in my post below, I recently bought many things from e.l.f.
I bought about 40 things so I need to break up the review. I decided to make a post about the disappointing things, the decent things, and the things that I really liked.
The first thing that really disappointed me was the nail polish I bought.
This is what the colors look like on the website:
Metal Madness, Teal Blue, and Punk Purple
This is what I received: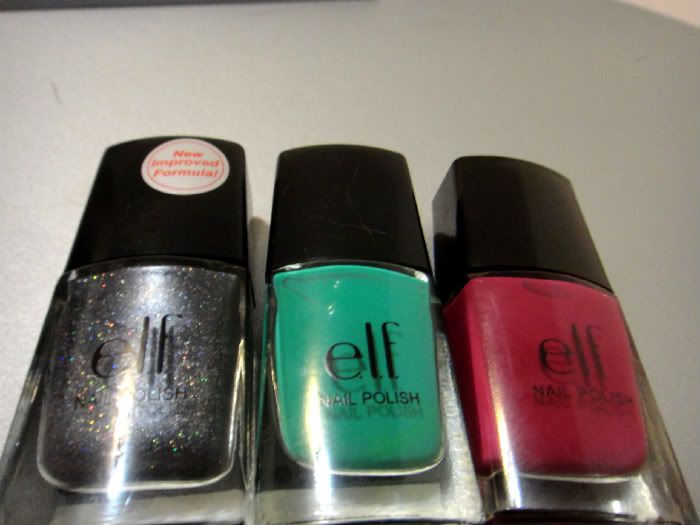 I was happy with the color of the Teal Blue nail polish. The colors of the Metal Madness and the Punk Purple nail polishes were not what I was expecting.
The color of the Metal Madness I received was too dark. On the website the color was much more silver and metallic. The one I received was more of a glittery gun metal. I did like the color of this one but I would have preferred the advertised color.
The Punk Purple nail polish I received was not purple at all! It was more of a crimson. The color of the nail polish on the website was more of a dark fuchsia.
Aside from the off-coloring, the application was very good. It went on smooth and was not streaky. It also dried quickly.
Pros:
Easy and even application
Dries quickly
Cons:
Coloring on 2 out of 3 were off
Rating: 3/5 (It would be a 5/5 if the colors matched the advertised color)
I was also disappointed with one of the false eyelashes I purchased.
(The top one in the photo below)
They look very nice!
This is what I received:
They are not evenly spaced. There is a large noticeable gap in the lashes on the left.
I was not pleased with this at all.
Pros:
Easy to apply
Cons:
Uneven spacing
The glue isn't strong (I had to use a different eyelash glue because the glue it came with would peel at the ends)
Rating: 2/5 (It did not look nice and the glue is a significant component that did not work well.)