I'm pretty sad to say that a lot of people did a tutorial on this costume. I was going to do a tutorial on it but Bubzbeauty beat me to it. Kim Dao actually did a tutorial as well. The character is Misa Amane from the anime Death Note. I watched this anime this past summer and immediately fell in love with Misa. She's just too kawaii! I love how she calls herself Misa-Misa, I love her lolita fashion sense, I love how she's so crazy about Light. There are so many things I could list about why I fell in love with her.
Here are a couple photos of her:
The second photo is a screen shot from the anime. I wanted to do a lot of screen shots but I became too lazy to search for her.
I think you guys have an idea of what she looks like right?
I tried to be as exact as I possibly could with her costume but since I had a hard time finding all of her props, I improvised a lot. But anyway, here is my version of her: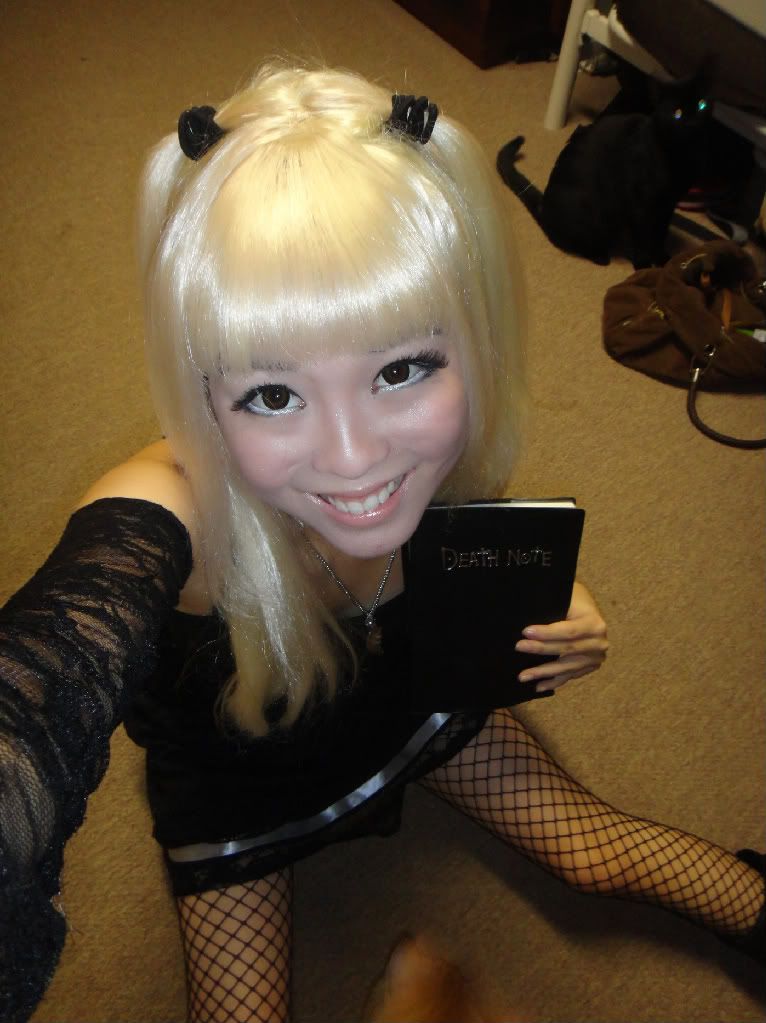 In this last photo there is a blurry orange thing between my legs lol. That is a cat. There is also another one in the photo! Can you spot her?
I hope all of you otaku enjoyed this post <3 It was great making this costume and doing the makeup to go along with it. I would make a list of all the products I used but I can't remember what I used! I used a lot of things for this look. The most important things I used were two pairs of false lashes, a foundation much lighter than my skin tone, white eyeliner, black cream eyeliner, and circle lenses (:
They are actually my very first pair! I received them a few days ago <3
I hope all of you otaku have enjoyed this post.