I've ordered from this website once. I received one good pair of lenses and one defective pair. Here is where my adventure begins.
I email LensVillage because of the defective pair (The email is read from the bottom up but I will rewrite the whole thing since the photo may not be clear)
Pink=Me
Blue=LensVillage
(sorry for my horrible drawing skills)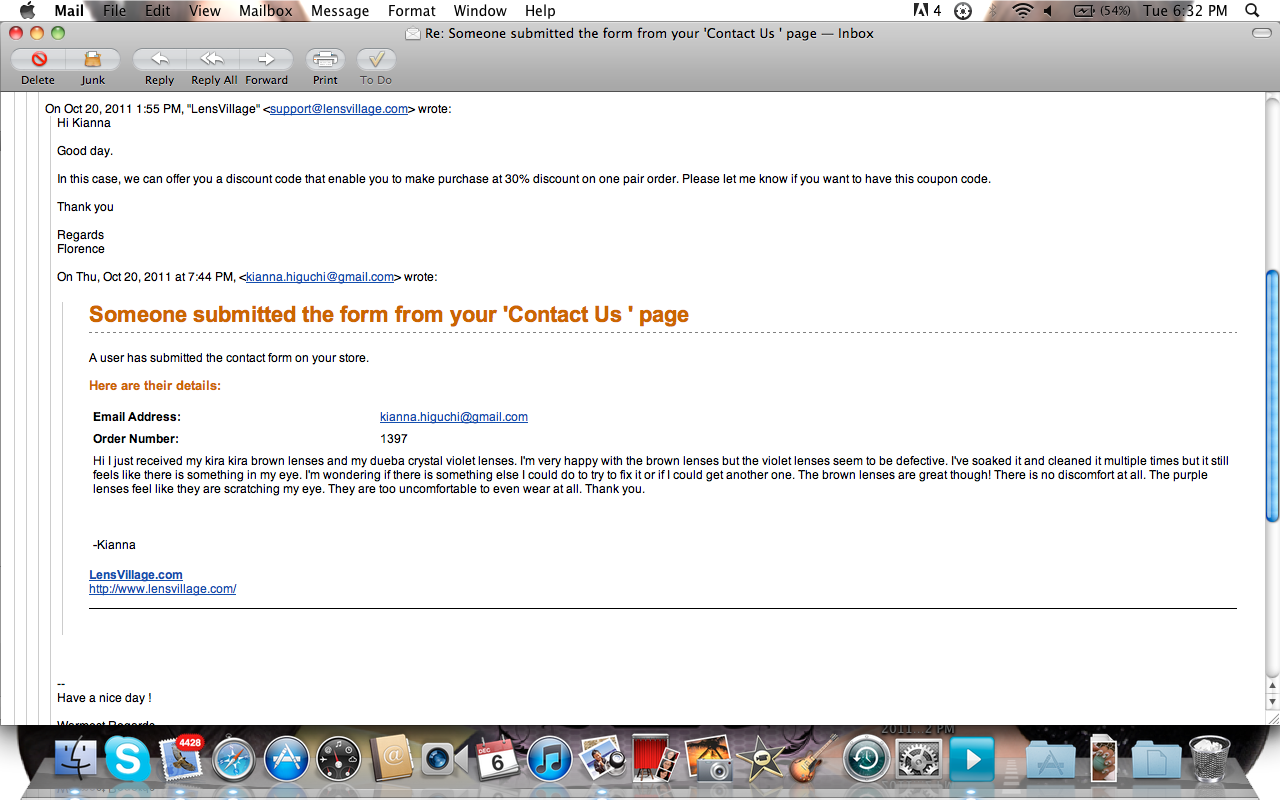 Alright here we go.
My first email to LensVillage:
Hi I just received my kira kira brown lenses and my dueba crystal violet lenses. I'm very happy with the brown lenses but the violet lenses seem to be defective. I've soaked it and cleaned it multiple times but it still feels like there is something in my eye. I'm wondering if there is something else I could do to try to fix it or if I could get another one. The brown lenses are great though! There is no discomfort at all. The purple lenses feel like they are scratching my eye. They are too uncomfortable to even wear at all. Thank you.



-Kianna
In this case, we can offer you a discount code that enable you to make purchase at 30% discount on one pair order. Please let me know if you want to have this coupon code.
(Whaat? 30%? My damn lens doesn't work and I only get 30%?)
My reply:
Is a discount all you could give me? I really like the color but I don't think I want to repurchase it in case the same thing happens again.
Hi Kianna

For this case, what I can offer another thing is have 50% money refunded for the pair that you said to have problem.

Please let me know

Thank you
Florence
(50%? So I half price for a lens that doesn't work?)
In that case I would rather just take the discount code.
(I'm angry already. But I was thinking that if I get a 30% off code I can just buy a lens thats like $25 and get $7.50 off)
This is the discount code that offer $8 rebate - KIANNA. The amount is probably more than 30% discount on a pair of lenses purchase from our store
So with all that said, I was satisfied with the $8 rebate. I only paid $10 for the lenses so it was almost the same amount. What I didn't realize is they had a return policy that states:
All items purchased are not returnable except for products which is found defective or broken before bottle opened. No returns will be accepted after 7 days. For a return, you are responsible for the cost of returning the merchandise to us. If LensVillage.com has made a mistake then we will also refund to you the postage and packaging costs that you have incurred (on both the initial order and the cost of sending the products back to us). Please contact us at support@lensvillage.com and we will help you in refund process.
I actually didn't read this until much later. So they actually did not help me in the refund process like they said they would. They did not even offer me the option of sending it back for a full refund!
But wait, it gets better.
Remember how "Florence" said he gave me an $8 rebate? Here is me typing the code in:
Well, what do you know. They lied. It's not $8, it's $5.
But the story does not end here.
I ordered from them again since they had a sale on the Puffy 3 Tones series that I really wanted to try. I placed my order on November 26. About a week later, I check back on my order status expecting to see that my order was shipped already. My order status says: Awaiting Fulfillment.
I email them asking why my order hasn't been shipped yet. I explain that there policy is that orders will be shipped within 2-4 days and how it's been 7. They don't reply. A couple days later, I leave a comment on their Facebook wall asking when my order will be shipped. No reply. Finally today, I leave an angry message for them. Still, no reply.
All they did was email me a refund. There were no actual words from them. They just updated their website saying that my order is refunded because they were out of stock on one of the lenses I ordered. Great customer service huh?
They actually didn't state that the lenses were out of stock either. You know how most places will say that the product is out of stock and maybe an option that asks you if you want to be emailed when they receive that item again? None of that! It wouldn't have been a problem if they stated that the lenses were out of stock. I wouldn't have ordered them, and there shouldn't have been a problem.
Sorry for such a long angry review. I hope none of you had similar experiences. I definitely do not recommend this website. I actually advise you not to order even though the prices are low. I waited a three for my first order to arrive. Most places take about two weeks or less.
OH WAIT ONE MORE THING! So LensVillage gives extremely good service to people that they sponsor. I will show you an example. (Please note that I have nothing against this blogger, and I actually like her blog very much. I just dislike LensVillage)
Simply Cute Rachel
was sponsored by LensVillage. They provided her with a cute animal lens case (which I didn't get, and neither did the other people that ordered from them that I spoke to). She said her lenses came in about eight days. My lenses came in a three weeks (I placed my order on Oct 3, received my order on Oct 24). Now she lives in New York, and I live in Hawaii but I don't feel like the shipping should be a two week difference.
Well, that's my review. I hope you benefit from my bad experience (: